09.05.23
09.05.23
09.05.23
09.05.23

Sound & FURY
The 88
Over and Over
(EMK/Mootron Records)
Regulars on the L.A. club scene will recognize the upbeat melodies of
The 88 on its sophomore album Over and Over. For newcomers, listening
to the album is like childhood encounters with your favorite uncle: It
picks you up, spins you around, and leaves you with a smile on your face,
luckily without referencing flowery meadows, a united world, or shiny,
happy people. The 12 mostly joyful tracks showcase the band's ability
to straddle rock and pop, and ride it well. Seen all over network TV,
including Jimmy Kimmel Live, Extra, and a coveted spot on The OC's
season premiere, The 88 seem to be on the Big Time's doorstep.
—Elizabeth Tippet
09.05.23

The 88
Southern California's The 88
churns out infectious power-pop brimming with saccharine vocal harmonies,
stylish quasi-retro productions, and sing-along lyrics. Much like glam-rock
forefathers T. Rex, The 88 seduces listeners with distorted guitars and
trashy boogie-rock. Meanwhile, generous spoonfuls of pop sugar help it
all go down. Of course, The 88 are more than just impersonators of pop
icons past–they also provide a refreshing swagger to contemporary pop's
possibilities. Whether you are attempting to drown out the irritating
coworker in the next cubicle, liven up a drab subway ride, or share a
moment with friends, The 88 provide the perfect aural bubblegum for just
about any situation.
Similar Artists: The Click Five, The Redwalls, Brendan Benson
09.05.23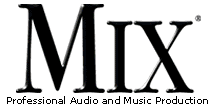 L.A. Grapevine


'Twas the week before Christmas and everybody was winding down —
except for The 88, that is, who were hard at work in The Village's Studio
D. The five-piece L.A.-based pop/rock outfit looked surprisingly fresh
considering that the previous night they'd been Jimmy Kimmel Live's musical
guests, and that several bandmembers had also pulled an early morning
gig with their alter ego, children's group Gwendolyn & The Goodtime
Gang, before heading to The Village for tracking.
For an "unsigned"
band, The 88 (www.the88.net) has amassed a stellar roster of accomplishments.
Their first CD, Kind of Light, was a Record of the Week pick by Radio
and Records, Tower Records.com and Virgin Mega magazine, with cuts airing
on Fuel TV and MTV2, and U. They're also music supervisor darlings, with
songs in Get Shorty 2: Be Cool and Surviving Christmas, as well as on
soundtracks for The OC, Dawson's Creek and JAG. They have a song —
alongside Jet and the Dandy Warhols — on the hit Warner Bros. CD
Music From the OC soundtrack, are championed by taste-making L.A. radio
station KCRW and were voted Best Band in Los Angeles by the L.A. Alternative
Press. All of that should be enough to swell some heads, but instead,
The 88 remain a rather shy bunch.
"This band works hard,"
understates producer/engineer Ethan Allen (Gram Rabbit, Tricky, Luscious
Jackson), who's hooked up with The 88 for their sophomore effort. "I
don't think we've done a recording date where there hasn't been some other
gig on the same day. Our recording schedule's difficult, but they organize
it very well."
Allen calls the project a blend
of "high- and lowbrow recording." Much of it was recorded
in his personal studio; in The Village's capacious Studio D (which had
just been vacated by Trent Reznor and Nine Inch Nails), the band was enjoying
the ability to spread out and record live. "It's great to be able
to play with isolation booths and different places to put stuff,"
Allen remarks. "Brandon [Jay] plays acoustic guitar that goes through
an amp, Adam [Merrin] is playing the acoustic grand piano and they were
able to get their own spaces. We're also using the echo chamber room,
leaving its door open to let the drums leak in."
While The 88 is influenced
by some of history's coolest bands [The Kinks, The Beatles, The Band],
their sound is their own. Songs are melodic and full of hooks, with expertly
offbeat arrangements and playing by pianist Merrin, bassist Carlos Torres,
drummer Mark Vasapolli and acoustic guitarist/percussionist Jay. Ultimately,
however, it's singer Keith Slettedahl's stream-of-consciousness lyrics
that draw you in.
"Keith will usually have
an idea for a song," explains Merrin. "Sometimes, it's a complete
idea with lyrics and a melody; other times, it's unfinished or needs a
little help with the arrangement. Brandon is very good with that part,
and during the making of this record, Ethan also contributed many great
[arrangement] ideas. He's also been very helpful in making some of our
ideas complete. He's a perfect fit for this band."
"To me, the identifying,
central part of this band is the writing," comments Allen. "It's
about songs. That seems ridiculous to state, but so much music isn't really
solid songwriting. With The 88, the music is pop and familiar, but there's
always something just a bit twisted. There's a very definite character
that comes from telling stories. It's not a band that jams. They have
something to say, and they have great common instincts that support the
songs' ideas without stepping on them.
"It's inspiring to work
with a band with such unflinching commitment to their music. I ask a lot
from them. They respond and reach beyond their normal limits, and I feel
compelled to do the same, which is really the way it should be!"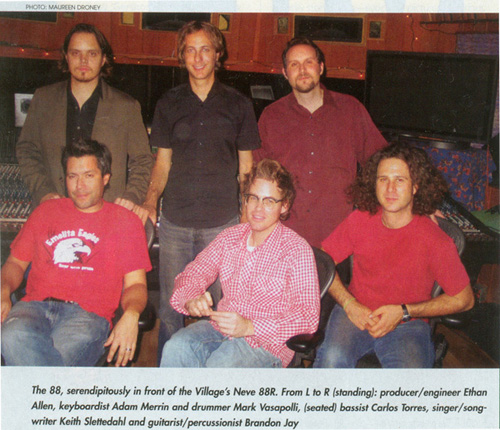 09.05.23
09.05.23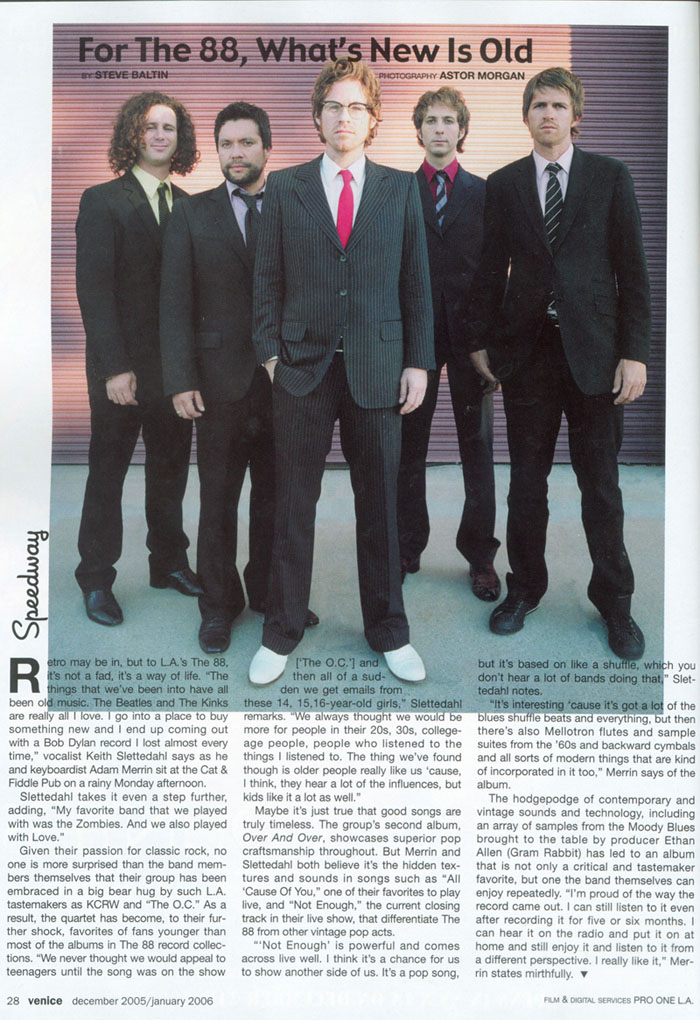 09.05.23
09.05.23

by Maya Kroth
THE 88
(Crocodile) If you like your pop more Beatles than Britney, check out
L.A.'s the 88, who wear pinstriped suits while churning out polished,
radio-ready power pop that goes down easy. Taking their name from the
number of keys on Adam Merrin's piano (or maybe the velocity needed to
get Michael J. Fox back to the future), the 88 recently released their
second record, Over and Over. Since then, the album's tracks have been
used, over and over, on shows like The O.C. and Grey's Anatomy—probably
because their soaring hooks stick to your brain like a discarded piece
of Bubblicious to the bottom of Ms. Spears's bare feet at a gas-station
bathroom.