LA WEEKLY
The Real Dadrock
by Jay Babcock
NEAR THE END OF THE 88's BRILLIANT
DEBUT, Kind of Light, at the coda to "Melting in the Sun," the
band kicks into a primo piano-horn-rhythm boogie groove straight out of
the Stones' "Loving Cup." More homage than rip-off, the lift
is the kind of deceptively simple, in-the-pocket playing that can't be
faked. And it says three things: These guys are confident, these guys
are having a good time, and these guys have some older brothers with cool
record collections.
For The 88, though, you gotta
credit the dad.
"I don't have an older
brother or sister," says 29-year-old Keith Slettedahl, The 88's lead
singer and songwriter. "So I was 15 and listening to Motley Crue,
begging my dad to get his records out of storage. When I got to listen
to the White Album and Bowie and Elton John and Exile on Main Street and
Dylan's Greatest Hits for the first time, I didn't want to leave my room.
That was what really made me want to write songs."
On the evidence of Kind of
Light, and The 88's recent ecstatically received monthlong Monday-night
residency at Spaceland, it's clear the elder Slettedahl did the right
thing. This is the real dadrock: highly melodic, superbly crafted rock
that's neither ashamed of nor intimidated by its heritage. The 88's songwriting,
arranging and playing are so assured, in fact, that the question is where
these guys have been for the last decade.
The answer is multiple: shyness,
a late-blooming talent, a serious drug problem, a true recovery and a
timely recent infusion of work ethic.
Along with Adam Merrin, The
88's multi-instrumentalist and producer, Slettedahl formed the first of
two bands featuring drummer Mark Vasapolli and bassist Carlos Torres around
10 years ago. But it wasn't until five years ago that Slettedahl started
to contribute his own songs to the group, then called the Freeloaders.
"I didn't think I could
write songs, even though that's all I wanted to do. I was terrified to
play anything I wrote for anybody. I started showing them to 'em, but
I would literally shake. Mark said, 'These sound kind of like the Kinks,'
who I'd never heard. So I ended up buying Village Green Preservation Society
or Something Else, one of those two. And I flipped out. As fucked up as
I was, and as sad as I was, I felt like I was 15 again."
Slettedahl's abuse of hard
drugs came to a head. "Needless to say, we broke up, and I went to
get help. I said I'd never play with them again. I didn't even know if
I wanted to play anymore. I was mad at everybody, but really, it was just
me the whole time. After I got sober, slowly I started talkin' to Adam
again. By that time I had a lot of songs written. I knew I could do it.
That's where the Freeloaders started again."
A CD of the band's unreleased
songs began to circulate, attracting the interest of another classic-rock
head, Silver Lake scene stalwart Brandon Jay (a.k.a. Quazar), who asked
if they wanted a percussionist.
"He started playing acoustic
guitar and little shaker stuff," remembers Slettedahl. "We changed
the band's name to The 88 at Brandon's suggestion — it's the title
of a French Kicks song, and of course there's also 88 keys on the piano.
Our work ethic had always been crap, but ever since Brandon joined the
band, we rehearse a lot harder and longer. He's amazing."
Last year, the band finally
sat down and started work on a proper album. We didn't have any plan whatsoever,"
laughs Slettedahl. "Adam made a list of all hundred or so songs that
we had at the time, we recorded 20-something and then picked 13."
SLETTEDAHL IS BLESSED WITH
A VOICE THAT'S part Ray Davies with a twist of Lennon, and a superb, generous
ensemble committed to song and arrangement rather than mere accompaniment
or instrumental showboating. Listening to The 88 can be pleasantly overwhelming:
an avalanche of hooks, riffs, melodies and backup harmonies. But this
is more than Kinks-kopyist kraftsmanship — and anyway, Slettedahl's
lyrics are more concerned with the personal than Davies' usual observationalism.
In fact, if you listen to them closely enough, you'll hear exactly why
Slettedahl and The 88 have taken so long to arrive.
"I'm rarely trying to
tell a story — the lyrics are usually just real stream-of-consciousness
type of stuff. But the songs always do end up telling some kind of story
— a lot tell about what was goin' on with me [five years ago]. You
know, I couldn't stay sober before, and now I can. I don't really understand
how that could happen. But it comes out in the songs."
The 88 play at the Derby on
Tuesday, March 4.
*********************************
LA WEEKLY
The 88 at Spaceland
These extremely
sharp-dressed men continue their Mondays-in-February residency at Spaceland
tonight. Arrive on the early side, cuz they've been drawing larger crowds
with each show: Sure, the no-cover helps, but really it's down to this
band's remarkable songs and hugely engaging performances. The 88 are a
five-piece – sometimes six – soaked to their songwriting gills in some
of the best music made in the half-decade before they were born: lotsa
late-'60s Kinks, some early Band, a
bit of Dylan. Bandleader Keith Slettedahl
has a gorgeous honey-and-almonds voice that breaks uncannily like Ray
Davies'; his guitar-based tunes are hypermelodic, midtempo affairs
laden with riffs and hooks, and given wonderful textures – piano, organ,
counterharmonies, acoustic slide guitar – by the other fellas in the band.
Impossibly solid; hard to believe the band's upcoming Kind of Light (due
March 4; now available at 88 shows) is their debut. They won't be playing
for free long. (Jay Babcock)
*********************************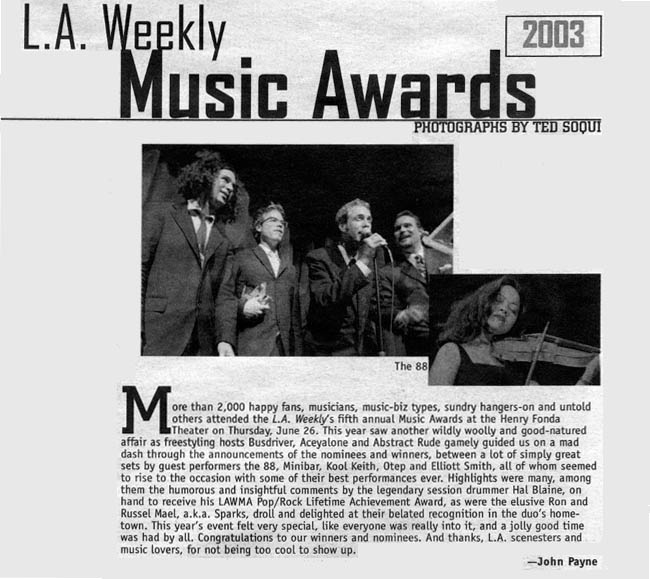 July
21 – "Lush 'n' layered rock never fails
to hypnotize." –Lina Lecaro
September 4 –
"Keith Slettedahl has pipes, and the naked pop of The 88 is
going to be huge." –Liam Gowing
*********************************
December 25
"The live-music
segment of the evening's entertainment was brought to a climax
by the Kinksian jump of the 88 and the mosh-pit-inspiring energy and
heart of Weekly-approved punk vets Bad Religion." – John
Payne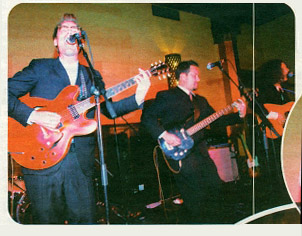 Jan. 1 –
Live Highlights – "The 88 at Spaceland" – Jay Babcock
*********************************
February 6
On the Speakers, The 88 at Spaceland
Although On the Speakers have only been together for about a year,
there's something instantly familiar about the band. That's
due in part to the fact that the quartet's lead vocalist,
Ian Sefchick, haunted this state for years while serving as the
original front man for San Francisco's indie institution Creeper
Lagoon. But it's also because On the Speakers are old souls
with a knack for channeling the classic sounds of pop-hook-friendly
rockers Big Star and the Replacements on songs like "Could
I Be Right?" It's a trait that makes OTS and the 88
a powerful pairing, for if Sefchick is a conduit for Alex Chilton
and Paul Westerberg, the 88's front man, Keith Slettedahl,
is a high-wattage lightning rod for the rubber soul of John Lennon
and Ray Davies. Listen to him tear through the 88's Beatles-style
cover of Little Willie John's "Leave My Kitten Alone."
In a word: scorching. – Liam Gowing
*********************************
PICKS OF THE WEEK
TUESDAY, NOVEMBER 16
The 88, Kennedy, All Hours, Adam Goldman at the Echo
Though they escaped with
their lives, music promoters Scott and Ali Giampino had precious little
left after an arsonist torched their Seattle home. Picking up where
the firefighters left off, Spaceland Productions has put together
a benefit show featuring a quartet of fab artists who will each be
covering a classic album in its entirety: Bedroom Walls' daydreamer,
Adam Goldman, takes on Belle & Sebastian's melancholy mood-fest
If You're Feeling Sinister, Canter's Kibitz Room graduates
All Hours take a "Walk on the Wild Side" with Lou Reed's
classic album Transformer, and Kennedy brings his uniquely
anal-expulsive abandon to the "Blitzkrieg Bop" of the Ramones'
self-titled debut. Then, when you thought the evening couldn't get
any better, hometwon heroes, the 88 (who else could pull this off?)
take a trip down bob Dylan's Highway 61 Revisited. Seriously,
folks, this event would qualify for a Weekly pick if only
to hear the 88's Keith Slettedahl tackle "Like A Rolling Stone"
and "Ballad of a Thin Man." As it's for a good cause, attendance
is mandatory. (Liam Gowing)