Music
Love, Magic and the Quest for a New Suit
The 88 sound like teen spirit but smell
like a rock band
By STEFFIE NELSON
Wednesday, March 1, 2006 – 3:00 pm
​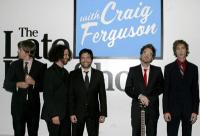 Sorry girls,
they're taken! L.A.'s best-dressed unsigned band, The 88, at the Craig
Ferguson show Photo by Jeaneen Lund
The green room of The Late Late Show With Craig Ferguson was stocked with enough liquor for a large party, but it was midafternoon and the members of The 88 don't drink anyway. Running on three hours of sleep, the local power-pop quintet had driven straight from San Francisco to West Hollywood, and all they wanted to do was dig into the food and let the nerves run their course. In 2004 they played on Jimmy Kimmel Live, but they weren't exactly TV veterans. At the talent booker's request, they would be performing "All 'Cause of You," a swooning love song and live-show favorite from their second album, Over and Over. It wasn't the rollicking single "Hide Another Mistake," which appeared on Grey's Anatomy the night before, "but we play this one better, anyway," said singer-guitarist Keith Slettedahl.
Slettedahl, The 88's primary songwriter, has a truly great rock voice: capable of bending from a Marc Bolan warble to a Jeff Buckley wail (although the '60-music devotee would probably prefer a comparison to the elder Buckley, Tim).
"The moment I heard him sing I knew he was the guy I wanted to do music with," recalled piano player Adam Merrin, a Calabasas High School pal of Slettedahl's.
The two recorded their first song together on the last day of high school, and they've been working toward this moment ever since. Now in their 30s, they've also both been sober for seven years. "We're not wasting any time," said Merrin. "We got those things out of the way."
Bass player Carlos Torres has been aboard for more than a decade; guitarist Brandon Jay joined a couple years ago and brought the name The 88 to what had been The Freeloaders. Drummer Anthony Zimmitti has been a member for less than a year, and despite a difficult parting with their old drummer, it seems like the handsome father of two girls might have been the missing piece. "The band has improved tenfold," said Jay, "and a lot of it's because of him."
The 88 function like a family, hugging one another before they go onstage and planning barbecues for the times when they're not all crammed in a van or playing music together.
"It's a very loving band, which is uncharacteristic for this industry," said producer Ethan Allen, who helped them craft their sophomore album's rich sound.
One of those records that keeps getting better the more you listen to it, Over and Over filters '60s melodies and '70s swagger through a prism of California sunshine — and maybe a sprinkle of rain. Recorded during the floods last year, it's more of a pop blowout than its quirkier, heavier predecessor, Kind of Light. Yet Over and Over still reflects the struggles they've been through. The anthemic "Battle Scar," driven by a barrelhouse piano, turns wounds into a cause for celebration, while "Nobody Cares," for which there's a video in the works, has one of the best "fuck you" sing-along choruses ever: " 'Cause nobody cares what you've been through/And nobody cares how much you do/Nobody cares what kind of drugs you're on/I can't take any more fun."
But most of the songs are about love, L-U-V, since everybody in the band has been shacking up lately. In May, Slettedahl will marry his girlfriend, Melissa Sims, an artist with cute star tattoos on her ears who clearly adores him. It's every girl's fantasy to have a song like "All 'Cause of You" or the Canyon folky "You Belong to Me" written for her, and this may explain the many teen-girl fans who still plan to marry him despite his pending nuptials. Having four songs on The OC doesn't hurt with the young ladies, either. Three girls, roughly 14 years old and obviously wearing their best jeans and tops, came to the Craig Ferguson taping, and as they passed the band's stenciled equipment cases in the hall on the way to their seats, they pointed, clutched each other. "The 88!" they whispered, conspiratorially.
Sure, it looks glamorous from the outside, but those fans didn't get a whiff of the guys' suits, worn on tour the past five nights because they're the only ones they've got. Nobody needs to tell The 88 that stardom, with its accompanying perks and praises, would be akin to winning the lottery, but these guys also know that they're a damn good band with a fair chance of succeeding if they work hard enough. If writing songs depends on that spark of magic, being a professional musician requires a bit of math, and every day there's something new to add to the band's plus column: Their MySpace hits doubled when they recently appeared on the DIRECTV program CDUSA; then, yet another music supervisor called and asked for a song; and they just played to a sold-out, screaming crowd at Spaceland, a venue where they used to draw 30 people. Now, major labels are starting to take notice, and although they're entertaining offers, nobody has come up with a deal so sweet that it would be worth putting their career in anybody else's hands. As Merrin noted, "People think that we are signed already. Unsigned bands don't usually play on TV shows."
And Craig Ferguson doesn't usually pronounce his musical guests "Rock Gods," as he did after The 88's performance of "All 'Cause of You." The Edinburgh native joked that he felt like Ed Sullivan when he introduced America to the Beatles. "I think you kids are the future of rock & roll," he growled, imitating the old-school variety-show host. It was a high compliment, but in the big picture, just one more step in the right direction.
"At the end of the day it's always about the next song, the next record," said Slettedahl. "We try to do the best we can in that respect, because to a certain extent we don't have a lot of control over so many things." Everybody agreed that continuing to make great music, and playing bigger venues, were the main goals, but Jay had one thing to add to the wish list.
"I wouldn't mind getting some new suits. I think The Killers even have cases for their suits," he said. "Yeah, I'd call that a goal."